Electro34 is a Milton Keynes based Motorcycle Electrical Engineering company, owned and operated by experienced moto-sparkie Andy Woolrich.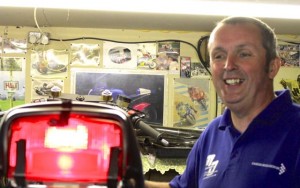 Andy is a fully qualified electrical engineer that originally trained on things much more complicated than motorcycles – namely radar systems! It just happens that his passion since childhood has been motorcycles. For the last few years he's rewired, repaired and built enough fresh looms for such a wide selection of bikes that it became clear it would make a viable business – that's how Electro34 came about in 2014.
As well as being an Electrical engineer, take comfort from the fact that Andy understands general bike engineering as well. Good wiring needs to work with the rest of the motorcycle, and consequently Andy is sympathetic to the other needs of a project when designing, building and fitting a loom.
Andy has also cut his teeth in plenty of 2 wheeled competition since his youth, racing in MX, Enduro, Supermoto and short circuit Road Racing too.
And yes, the 34 in Electro34 does mean Andy is a Schwantz fan! He even owns quite a lot of Schwantz's original RGV bodywork, which may or may not be featuring on a very special 570cc project of his own… check out the blog or the Electro34 Facebook page for more on that in time…